Holding Top Competitions and Performances, Leading the Fashion of Events
Thanks to orderly operation, Bird's Nest armed with first-class facilities and good services becomes the venue of many international top sports events and concerts.
Main Field
Area: 20,000㎡;Height: 69m
Fixed seating capacity: 85,000
Functions during the Olympic Games: opening and closing ceremonies, athletics competitions , football matches, etc
Current functions: live concerts, sport events, etc
As the main venue of Beijing 2008 Olympic Games, the infield of National Stadium (Bird's Nest) with an area of 20,000㎡ approximately can be used as a football field and a track-and-field ground conforming with the international competition standards of which "lichee line" international top runway is used on the track-and-field ground. The infield is equipped with 4 large screens, audio equipment to simulate indoor effects, corresponding security equipment and so on, which can be used as the venue of both large sports events and large-scale theatrical performances, concerts etc.
Outdoor Warm-up Field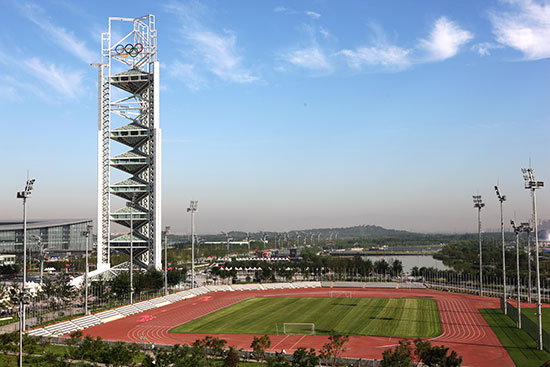 Area: 34,000㎡
Seating capacity: 1780
Functions during the Olympic Games: Outdoor warm-up field
Current functions:Small-scale sport events, football matches and performances
Located at the north side of the National Stadium, the outfield (warm-up venue) of National Stadium was the training warm-up venue for the athletes of Beijing 2008 Olympic Games, with a total area of 34,000㎡ approximately. Required to reach the IAAF class-I standard of track-and-field ground, the outfield consists of a regular football field, track-and-field ground, and throwing area. It is designed according to the standard 400m track-and-field ground, with radius 36.5m, straight length 84.9m, and lane width 1.22m covering 8 runways at the north and south semicircle area and east straight section, 9 runways at west straight section. The football field is a standard one with size of 110m x 72m. The throwing area is 12,000 square meters. There are totally 234 manual flag poles including 231 and 3 poles surrounding and inside the warm-up venue respectively. And the warm-up venue is equipped with 1780 seats, where the relevant publicity and promotion activities have been implemented including Audi A1, BMW, Mercedes Benz electric vehicles etc.
South Square
Area: 10,690㎡
Specification: 110m*120m
Functions during the Olympic Games: BOB Television broadcasting area
Current functions:Exhibitions and small-scale performances
With a total area of 10,690㎡ approximately, the South Square of the Bird's Nest is an open-air area adjacent to the main entrance and exit of Olympic central area, with a huge flow of people, which is suitable for large announcement events, interactive experience activities, medium and long term display and exhibition activities.
Tel:+86 10 84372992/2993